有些电影是你看过之后,心中涌动万千却无从下笔,是你满脑子的思绪却不知从何整理,《海上钢琴师》就是这样一部让我欲罢不能欲言又止的电影。

——我们无处安放的孤独
You're never really done as long as you have a good story and some one to tell it to.
Hey,Max! Imagine the music I could play with two right arms. Hope I can find a piano up there.
Why why why why why… I think land people waste a lot of time wondering why. Winter comes they can't wait for summer; summer comes they're living dread of winter. That's why you're never tired of travelling, with chasing some place far away, where there's always summer. That doesn't sound like a good bet to me.
"All that city. You just couldn't see the end to it. The end? Please? You please just show me where it ends? It was all very fine on that gangway. And I was grand too, in my overcoat. I cut quite a figure. And I was getting off. Guaranteed. There was no problem. It wasn't what I saw that stopped me, Max. It was what I didn't see. You understand that? What I didn't see. In all that sprawling city there was everything except an end. There was no end. What I did not see was where the whole thing came to an end. The end of the world… "
"Take a piano. The keys begin, the keys end. You know there are eightyeight of them, nobody can tell you any different. They are not infinite. You are infinite. And on these keys the music that you can make is infinite. I like that. That I can live by. "
"You get me up on that gangway and you're rolling out in front of me a keyboard of millions of keys, millions and billions of keys that never end, and that's the truth, Max. That they never end. That keyboard is infinite. And if that keyboard is infinite, then on that keyboard there is no music you can play. You're sitting on the wrong bench. That's God's piano. "
"Christ! Did, did you see the streets? Just the streets… There were thousands of them! And how do you do it down there?How do you choose just one? One woman, one house, one piece of land to call your own, one landscape to look at, one way to die… "
"All that world is weighing down on me, you don't even know where it comes to an end, and aren't you ever just scared of breaking apart at the thought of it? The enormity of living it? "
"I was born on this ship, and the world passed me by, but two thousand people at a time. And there were wishes here,but never more than fit between prow and stern. You played out your happiness, but on a piano that was not infinite. I learned to live that way. "
"Land? Land is a ship too big for me. It's a woman too beautiful; it's a voyage too long, a perfume too strong. It's a music I don't know how to make. I could never get off this ship. At best, I can step off my life. After all, I don't exist for anyone. You're an exception, Max, you're the only one who knows I'm here. You're a minority, and you better get used to it. Forgive me, my friend, but I'm not getting off."
我爱那座城市
那里的冬天真是美极了
到三月
在你最意想不到的时候
总有个下午
大雾席卷而来
就像是一道屏障
它刚好垂到街灯那么高
将一切拦腰斩断
像一把白剑
真是神奇
房子没有了屋顶
树木失去了枝干
圣路易大教堂的尖顶也不见了
街上的行人都没有了脑袋
肩膀以上一切都消失了
在杰克逊广场上只能看到
一具无头尸体走来走去
撞到一起
他们就问候说
"家里人都好么?"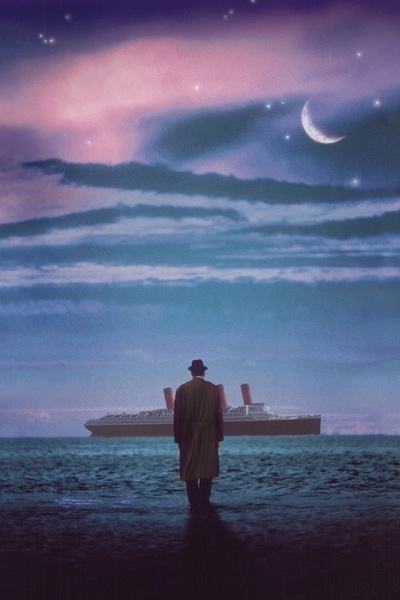 2016/11/11